7 Tips to Combat Writer's Block
You are in the middle of a great piece of work. The words just flow from your fingers and you feel untouchable. But then, suddenly it would seem, that 'flow' dissipates into thin air like morning dew evaporating when the sun comes out—after some time, you wouldn't even know it was ever there. That evaporation is otherwise known as writer's block. One phrase that every author, blogger, copywriter, and content specialist knows all too well. This fair-weather friend usually pops up suddenly, when we think things are going well. We all hate it, but how can it be overcome?
Irony of all ironies, I actually had writer's block while writing this blog. A bit surreptitious, but it was a chance to take my own advice and also turn to the advice of other writers. Below, I'll show you seven ways to help you take back your writing.
1. Press pause
So the piece you are writing is really important right? And it's on a deadline and you don't have time to be feeling this way. I get it. The best thing to do is to give yourself (and your piece) a chance to breathe. Healthy distance from the project you are working on could be a life-saver in defeating writer's block.
Psychologists say that strategic breaks can actually help your brain process complex information in a more efficient way. Taking a break can be a way to restore motivation toward your project. With some space, you can see your long-term goals more clearly and will be better equipped to begin again with your goals and priorities for the piece put in a stronger context.
2. Read
Drawing inspiration from other people is another great place to start. I am reading George Eliot: The Last Victorian by Kathryn Hughes. Its pages are dense and filled with sumptuous details that excite and inspire me. A good writer is analogous to a good reader. But that is only the first step. After reading, it is imperative to engage with the work. This can be done through annotations in the text, asking questions, speculating theories, going beyond the words on the page to create your own meanings and interpretations. This level of engagement with other works allows for meaningful connections to form and exercises your brain in creative and strategic planning which will only aid you further in your own work.
You could also consider talking with another writer you trust. They may be able to offer insights into the piece that you may not otherwise see. Distancing yourself from your work can be a crucial step to fixing it.
3. Change your scenery
It's time you paid a visit to your favorite café—and don't try to say that you don't have one. One of the first things I did when moving was find a café I could write in. But today, I challenge you (and me) to mix it up a little. Wander to a new side of town with new sounds, footprints, and scenery. Discover a new place—a garden across the way with a wooden bench on a bed of daisies. Someplace where the air is new and perhaps a bit unfamiliar. Getting out of your comfort zone could be the push you need to take your writing out of its comfort zone. Have a bit of an adventure.
4. Get moving
Routine and structure are crucially important to the writing process. Many famous writers have been equally praised and studied for their works as for their daily routines. As such, many were walkers. Walking breaks (or the form of exercise you fancy) have been shown to be more effective than sitting breaks because it leads to more creative ideas and also helps those ideas mature and manifest longer in your brain. It is important to know that these moving breaks do not have to be hours long. They can be as little as five minutes. Taking that time won't detract from your productivity, rather, it has the power to increase it.
5. Write something else
If you have the opportunity to begin or resume a different project, then try writing on that topic for some time. Moving on to a different project can help put the one that is giving you trouble out of your mind. We have talked about healthy distance, and this method can be another way of achieving that while still maintaining your threshold for productivity.
6. Outline your way through
Writer's block leaves writers with a feeling of being overwhelmed. If this is the case, try to break the larger task of finishing your piece into smaller, manageable, and quantifiable steps. Breaking the project down in this way can help you figure out any underlying problems that exist in the piece and lay out a strategy for fixing it.
Pro tip: Often, the problem is further back than you think it is.
7. Believe in yourself
When I am upset, I often do not like positive advice. I have to let myself feel the raw emotions in order for me to move on. For this point, look inward and see how you best process the negative feelings you have. After you have done this though, it is important to move beyond it through positive affirmation. Faith is about the banishment of doubt. Stop being the source of your writer's block. You've got this.
"Great things are not done by impulse, but by a series of small things brought together," George Eliot. As one of the foremost novelists in the 19 century and one of the most renowned writers in the world said, great things take time. Give yourself and your writing the time and the steps that it needs to flourish. When you nourish something, you gradually build it into what it was always meant to be.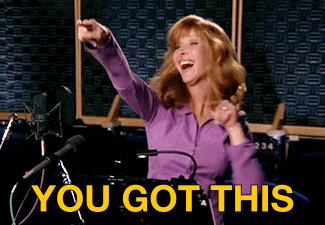 Please reload