How To Create A Stunning Color Palette For Your Website
I'll let you in on a secret about me: I love taking quizzes!
In fact, during the process of building and designing my website I took dozens of quizzes that promised to tell me what colors would best represent who I am and what I do, (a rather tall order to ask from a simple algorithm.) I found that these quizzes were insufficient in answering the heart of my question: what colors best represent my brand?
Each quiz told me the same thing:
Red radiates confidence
Blue instills trustworthiness
Purple grants royalty
Pink embodies innocence
Orange is bold
Green is reliable
Yellow emits vibrancy
Black equates sophistication
These answers, though filled with accurate psychological representations, did nothing to help me paint my white canvas and turn it into a beautiful design.
So where do you start?
Forget Colors (At First)
Ironically, the first step in choosing the best colors for your brand is actually not to start with the colors at all. Why? Inherently, colors represent something. They are not the sole component of an object. For example, a skirt can be black, but it could just as easily be made in navy blue or burgundy; even through the color varies, the essence of the skirt remains unchanged. The color is the decoration, adding flavor and feeling to the object.
Think of your business as the object. It is the foundation from which you can build, customize, and decorate to add in your personality.  It becomes an impossible task to assign colors to an undefined business. First, consult your mission statement, then ask yourself the following questions:
What is your brand's story?

Who do you serve?

Why do you offer particular services?
Use this time to describe your business in a few sentences. What do your clients expect of you? What distinguishes you from other businesses offering similar services? These are big questions, ones that require your time and attention. Once you have sufficiently answered these questions, evaluate what you say. Tease out 3-4 words that accurately reflect your answers.
It's from here that you will be able to bring color into the mix.
Pigment Paradise
A color gains its look from reflection and refraction of light. Light gives birth to color: a combination of brightness, tint, tone, saturation, and hue. A color is an electromagnetic wavelength of light, rendering it intangible— something that can only be visually experienced. Some argue that this quality leaves the earth with an endless limit of color variations and others believe that its sentience gives it a fixed amount, either way there are many colors that can be seen in the world. It's fascinating really how light can provide us with so many variations of color. Take a look at the photo below. What do you notice about the color samples?
Believe it or not, these are all different shades of white. The difference comes in the tones that are swirled into its base. But these are not the only variations of white, there are many more! Each main color holds this diversity spectrum, and it is important to keep the many variations of colors in mind when choosing your own. Perhaps you aren't a fan of orange, but you like the color peach. Experiment with shades, tints, and tones of colors and they may surprise you.
Your website/logo colors will breathe life into your brand. It is the decoration for which you will be seen, recognized, and known. It can be overwhelming. With so many choices, where do you start? Look at the list of words you have written and then refer to the beginning of the article where I listed the overarching psychological meaning of colors. Evaluate this list and see if you come up with a match.
I'll give you the example that I worked from:
I wanted my writing and editing business to be full of life. The colors needed to embody fresh energy, something clean that my visitors could have faith in, and I also needed it to have a dash of creativity.
Color work is an art, and many graphic designers and website designers alike agree to the 60/30/10 model. They recommend choosing a primary color that is used throughout 60% of the website, followed by a secondary color that is used 30% of the time, and a 10% accent color to add to the design. This way, you are not choosing too many colors while still adding flavor and variety to the website as a whole.

Taking the first word, blossom, is where the inspiration for the primary color came from. Yellow represents youth, energy, growth, and joy. I found a particular shade of yellow that reminded me of the sun, bestowing light on everything it touches. The second word, steadfast, becomes represented in the deep emerald green. Filled with connotations of dignity, trust, and strength, the green complements its yellow counterpart. The last word, creative, finds its color in the light pink accent. Soft and subtle, it calms the pallet while offering a flash of my personality.
Work of Art
Your website design should be conceived of as a work of art, something that requires diligence, creativity, and a delicate hand. No great piece of art is created in one sitting. Famous artists and their models sit for weeks/months before a painting is complete. All of this is to say to take your time and experiment with different combinations until you uncover the perfect one.
Paint color into your business, enliven it with your goals, mission, and personality to make it something you can truly call your own.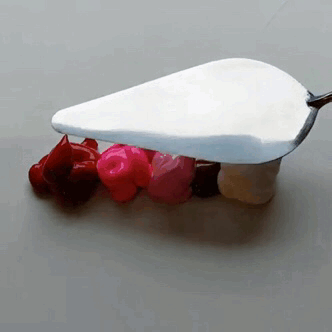 Please reload