Why Copywriters Are Your Most Valuable Assets
Marketing as a field continues to evolve. With time, marketers are adapting the ways that they reach and engage with their audience in order to optimize that interaction. One of the byproducts of this research is a strategy called content marketing. Content marketing is a marketing approach that has its roots in information. In the digital age, information is not a new concept, but marketers use this information to attract and delight their audience by offering them content tailored to answering their questions.
Content marketing is a highly rich facet of an inbound marketing strategy. It is the meat of your marketing strategy. It is what your audience will see, read, and associate with you and your brand. For content marketing to be successful, you need remarkable content. Who creates that content? You guessed it: writers.
Who Is A Copywriter?
Copywriters are faceless heroes, diving into half-baked ideas, disconnected thought webs, and messy grammar to create smart, coherent articles that are shared on a variety of platforms. Their goal is to write content that the intended audience will be able to find, read, and comprehend. All writing requires an intimate knowledge of the intended audience, but copywriters have to be even more in tune with the audience they are catering to in order for their work to be properly engaged with. 
Not all writing is the same. It is good to know that there is a range of different writing forms, mediums, and styles, all of which require a unique combination of those three elements to be successful. And...not all writers do them. Let's take a look at some different types of writing so that you can see just how diverse the discipline is. 
Academic writing

​This type of writing often manifests itself in the form of scholarly books and journal articles. 

Fiction/Novel writing

​Much discipline and rigor comes to getting on the New York Times Bestseller List, and this type of writing is entirely unique.

Creative Non-fiction

​Memoirs, biographies, and cultural criticism are often put in this category.

Screen/Play writing.

​The lovely folks who give us the shows we just can't get enough of like The Good Place or Scandal. 

Grant writing

​Research relies on the money obtained from grants. This type of writing is entirely different as it requires the authors to rigorously outline their strategy, methodology, and results. 

Web writing

​I invented this category to encompass the writing that happens every time we open the computer: landing pages, articles, blogs, web copy, and more.
There are so many different types of writing and as I mentioned before, each one asks something different of its author. Web writing is the one that we are going to focus on today because within this category, copywriters shine.
Content, when done well, is not easy to produce and quite often takes a significant amount of time. This is one of the many reasons why companies hire copywriters. Quite often these masters with a keyboard go unnoticed, many being hidden behind the walls of a desktop.
This post is here to show you the value that a copywriter can bring to a project, and why your marketing strategy cannot thrive without them.
What Do Copywriters Do?
The simple answer is that copywriters write. They write all day everyday (and into the night) to produce content that is consumed, shared, and engaged with. Copywriters are modern-day storytellers. Masters of their craft, they shine in areas where you may not think a story would live. They use stories to connect brands with their audiences.
These micro-stories come in many forms: blogs, articles, e-books, white papers, social media posts, website copy, landing pages, advertising copy, newsletters, and emails.
Here is an example. Open another tab on your browser and search for one of your favorite websites. What do you see when you first arrive on the page? Most often a lot of words accompanied by a theme-appropriate image. Do you want to know who created that page? You guessed it, a copywriter! Almost every piece of content you engage with electronically has been written by a copywriter. With all of the content we consume on a daily basis, that is a pretty incredible thought.
Within that content, a professional copywriter lives and breathes SEO. They can take a list of keywords and turn it into a compelling story-based marketing tactic. SEO is not a simple system that can be solved using basic algorithms. On the contrary, it lives, breathes, and changes. SEO requires a sound content strategy—something that a copywriter excels at producing.
Copywriters have a unique job. They are tasked with writing a piece of content for a particular client that accurately conveys the client's unique brand, message, and style. Copywriters must be able to write in the voice of the brand they are hired for. More often than not, this means that the writer alters their style to meet the demands and requirements of their client. Like a chameleon secretly shifting and blending into its surroundings so is a copywriter when capturing their client's brand voice. Copywriters are flexible, and they have to be if they are going to write about technology in the morning and beauty products in the afternoon! Most copywriters are working with many clients at once, sometimes in varying fields which makes adaptability a staple quality. 
It is no secret that writers love their research. The first stage of writing demands it. Copywriters delve into market research to optimize the posts they create. Though often equipped with the skills to write on many topics, copywriters tend to specialize in particular fields. The good news for companies being that they can find a writer who is well-versed in their specialty and they can be confident that the writer has a handle on the intricacies of the market. 
With all of the work they do, let's take a minute to say something important to the writers in our lives.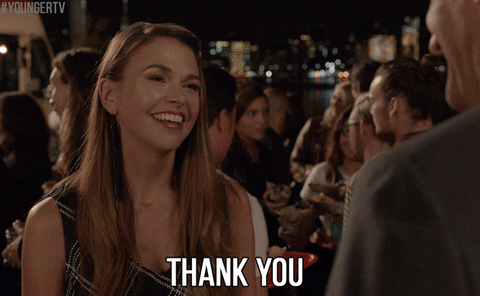 Thank you, Liza (If you have not seen Younger, I strongly urge that you take a break and watch it!)
How Do Copywriters Add Value?
One of the most important facets of job satisfaction is feeling valued for who you are and what you bring to the table. I can honestly say that I have never felt more valued in a position as when I have provided writing services to my clients. I urge you to value your team of writers, they do so much for your team and it is good to show your appreciation. Let's take a look at just some of the ways that copywriters add value to any team.
Their ability to generate quality content in a timely fashion.

Their resolve  to construct cohesive, sound, and persuasive arguments.

Their optimization of company resources and undertaking the roles of content strategist, content manager, and content creator. 

Their fresh voices. Copywriters are able to come at an article from a new angle, one that you or your team may be too entrenched in to accurately portray.
You Have An Artist on Your Side
Artists are interesting creatures. They inhabit a world of color, creation and possibility. Lucky enough for you, with a copywriter you have an artist on your team. Someone who will wear many hats and make it look like one. Someone who will be able to perform many duties simultaneously. Someone flexible, diligent, and timeless.
Every copywriter has a relationship with each piece they write and strive to make it the best that it can be. They provide  you with their version of a piece of art. So what are you waiting for? Go out and find the right copywriter for your team.



Please reload